Panel resolution
1920x1080
Sync technology (VRR)
Freesync Premium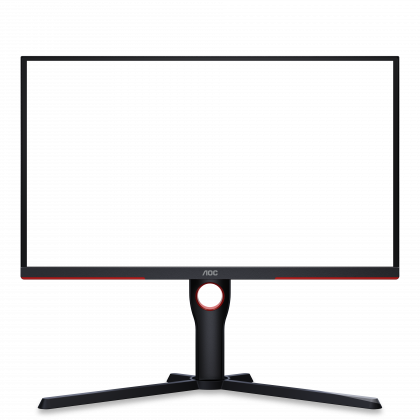 The AOC 25G3ZM/BK meets the needs of both eSports, competitive gamers, and casual gamers as well. It offers a responsive 24.5" VA panel with FHD resolution, ShadowControl and super contrast ratio of 3000:1. Be the fastest in action with 240Hz refresh rate, Adaptive Sync, 1ms GTG and low input lag.
"A 24.5in 1080p screen with a maximum refresh rate of 240Hz and a contrasty VA panel, this offering from AOC is aimed at gamers playing the sort of quick-reaction esports titles where every tiny fraction of a second counts. It's also a versatile screen, and if you're the sort who likes to run a PC, games console, and maybe a streaming stick through their monitor – the audio out socket comes in handy here – then it makes a good choice. Entry-level esports athletes will appreciate the speedy response times and high frame rate, while it would also make a good second screen for content creators, whose main monitor is a higher-res, colour-calibrated one."
"This monitor is pretty fantastic, and if you can get it while it's on sale, it's actually not that much more expensive than a good quality 60-75Hz Full HD panel. 240Hz is super fast, faster than most people need really, but it's not just about refresh rate, but input latency, and if you want to maintain single-digit input latency for your competitive gaming, this will certainly get the job done. If you've been on 60Hz all your life, you will feel an improvement in your gaming abilities on fast monitors like this. Highly recommended!"
FHD Resolution
Want to watch a Blu-ray movie in full quality, enjoy games in high resolution or read crisp text in office applications? Thanks to its Full HD resolution of 1920 x 1080 pixels, this monitor lets you do just that. Whatever you are viewing, with Full HD it will be displayed in rich detail without requiring a high-end graphics card or consuming a lot of your system's resources.
VA Panel
VA Panels (Vertical Alignment) display deeper blacks and a high contrast for extra vivid and bright images.
240Hz Refresh Rate
240Hz completely unleashes top end GPUs, bringing unprecedented fluidity to the picture on your screen. With every detail brought sharply into focus and every movement shown with crystal clarity, feel your reactions become one with the action and elevate your game.
0.5ms MPRT - Moving Picture Response Time
MPRT is an acronym for moving picture response time. MPRT technology disables and enables your monitor backlight during picture changes. Through the reduced time a frame is shown on the monitor, "ghosting" and "blurring" effects are reduced, resulting in a smoother, more "fluid" feeling gaming experience.
1ms Response time GTG - Grey-to-Grey
GtG stands for Grey-To-Grey and represents how long it takes for one pixel to change between one gray level to the next. In gaming, every millisecond counts and can be the differentiator between hitting or missing a shot. Fast response time also eliminates ghosting and motion blur.
Freesync Premium
Enjoy the best quality visuals even in fast paced games. The AMD FreeSync Premium Technology ensures that the GPU's and monitor's refresh rates are synchronised, which provides a fluid, tear free gaming experience at highest performance. The AMD FreeSync Premium features a refresh rate of minimum 120Hz, decreasing blur and sharpening the picture for a more life-like experience. The LFC feature eliminates the risk of stutter in case the frame rate drops below the refresh rate.
HDMI
HDMI (High-Definition Multimedia Interface) is supported by the current gaming consoles, current GPUs, set-top boxes, supporting the HDCP digital content protection system. HDMI 1.3-1.4b versions support up to 144 Hz refresh rate@1080p and 75 Hz@1440p, while HDMI 2.0-2.0b versions support 240Hz@1080p, 144Hz@1440p and 60 Hz@2160p (4K).
Minimal bezel distraction for the ultimate battle station
Expand your view with multiple monitor set-up. The narrow border and frameless design offer the minimal bezel distraction for the ultimate battle station.
Height adjustable Stand
Raise or lower the screen to suit each individual's height and seating preferences. The easy-to-adjust stand ensures hours of comfort.
Full Ergonomics
Feel the comfort! AOC's height, tilt and swivel-adjustable stands help you find the most comfortable and healthy position.
6 Games Mode
Tailor your display to the game with a click of a button. Switch settings between in-built presets for FPS, racing, or RTS games, or customise your own ideal conditions and save them. The AOC Settings KeyPad makes switching profiles or adjusting features quick and easy.
AOC G-menu
AOC G-Menu is a free tool that you can install on your PC to have complete customization paired with maximum convenience.
AOC Game Color and Shadow control
Bring the battle out of the shadows with AOC Shadow Control and AOC Game Color! Adjust grey levels for better picture detail and brighten dark areas or sink them back into blackness on the fly, without affecting the rest of the display.
Low Input Lag
Unleash your reflexes by switching to the AOC Low Input Lag mode. Forget graphical frills: this mode rewires the monitor in favour of raw response time, giving the ultimate edge in hair trigger stand offs.
Good for Console Gaming
Many of our top-notch monitors are not only designed to work with PC towers but are also compatible with consoles. You can easily plug them into your Xbox or PlayStation and enjoy the great image quality. The monitors support up to 120Hz, so even the newest generation models run on the highest settings.
Related products
Region selection
Do you want to open our us.aoc.com website?
You can also continue on EU website.