Panel resolution
1920x1080
Bezel type (front)
3-sided frameless
Blue Light Technology
Low Blue Light
Boasting an elegant 3-sided frameless design, the AOC I2490VXQ is equipped with a sturdy stand in titanium grey finish. The advanced 23.8" Full HD IPS panel offers great versatility with good colour accuracy and wide gamut coverage.
Frameless design
Besides looking modern and attractive, frameless designs enable seamless multi-monitor setups. Your cursor/windows will not be lost anymore in the dark abyss of bezels, when many displays are placed side by side.
IPS Panel
IPS panel ensures an excellent viewing experience with lifelike yet brilliant and accurate colours. Colours look consistent no matter from which angle you look at the display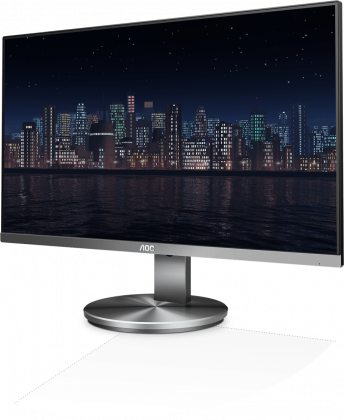 Wide Colour Gamut
When you are enjoying photos, videos or games, we want your screen content to look as lifelike as possible. That is why this display comes with Wide Colour Gamut technology, which means that it is able to display a lot more colours than conventional monitors. This is achieved through a special hardware solution, not through mere software adjustments. The result: true-to-life images with fine details that become visible thanks to the broader colour palette.
Speakers
Built-in speakers make it easy to catch up with family, friends and colleagues. For movies, music, games and more, you'll enjoy quality audio without the hassle of connecting external speakers.
Flicker Free
AOC Flicker-Free Technology utilises a DC (Direct Current) backlight panel, reducing flickering light levels. With eye strain and fatigue absolutely minimized, feel free to enjoy those long, intense gaming sessions in comfort!
Three-Year Warranty
AOC stands behind the quality of each and every monitor with a generous three-year warranty starting from the original date of purchase. Within the warranty period, any AOC displays with manufacturing defects or faulty components will be repaired or replaced at no additional charge.
Related accessories
AD110D0
Sleek dual monitor setups made easy
AS110D0
Ultimate flexibility for your monitor
Related products
U2790PQU
Striking resolution for a full color experience
Region selection
Do you want to open our us.aoc.com website?
You can also continue on EU website.