Panel resolution
2560x1440
Sync technology (VRR)
Freesync
QHD Resolution
With 2560 x 1440 resolution, Quad HD (QHD) offers superior picture quality and sharp imagery that reveals the finest details. The widescreen 16:9 aspect ratio provides plenty of space to spread out and work, plus allows you to enjoy games or movies in their original size.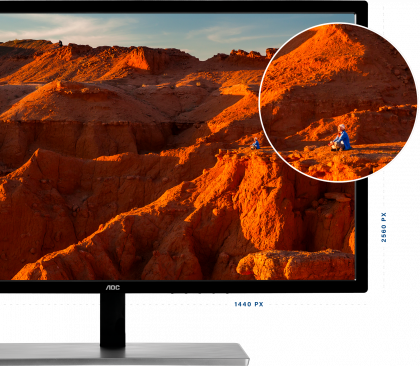 Freesync
The AMD FreeSync Technology ensures that the GPU's and monitor's refresh rates are synchronised, which provides a smooth, tear free gaming experience. You will appreciate the low input lag if you're looking for the best quality visuals in fast paced games.
Big screen size
Big screen sizes give you more room to play with applications, boosting your productivity. For resolutions equal to or higher than QHD, big screen sizes result in a comfortable pixel density, eliminating the need for scaling. Break your chains - immerse yourselves in movies/games on huge displays!
IPS Panel
IPS panel ensures an excellent viewing experience with lifelike yet brilliant and accurate colours. Colours look consistent no matter from which angle you look at the display
Low Blue Light
AOC Lowblue Light protects you from harmful blue light which, during long sessions, has been shown to cause eye strain, headaches, and sleeping disorders. Our Lowblue Light feature reduces the harmful wavelengths emitted without sacrificing color composition, setting the experience free from the worry of eye damage.
Flicker Free
AOC Flicker-Free Technology utilises a DC (Direct Current) backlight panel, reducing flickering light levels. With eye strain and fatigue absolutely minimized, feel free to enjoy those long, intense gaming sessions in comfort!
Related accessories
AD110D0
Sleek dual monitor setups made easy
AS110D0
Ultimate flexibility for your monitor
Region selection
Do you want to open our us.aoc.com website?
You can also continue on EU website.